Give yourself the gift of knowledge. Celebrate the Golden Anniversary of the Great American Musclecar! Your hardcover, first edition volume is promptly shipped directly from the author's personal inventory. Signed copies are also available, with 100% of the additional funds applied to the author's 'wife insurence' policy. Shipping Weight: 1.6 pounds (2 lbs. 4.7 oz shipped) Product Dimensions: 10 x 0.5 x 10 inches ISBN-13: 978-1613252031 ISBN-10: 161325203X Hardcover: 192 pages Publisher: CarTech Language: English
Description
The iconic automotive brands built during the Golden Age of American Muscle still burn brightly, some fifty years later. But who built those brands, and how did they get their hooks so deeply into so many of us?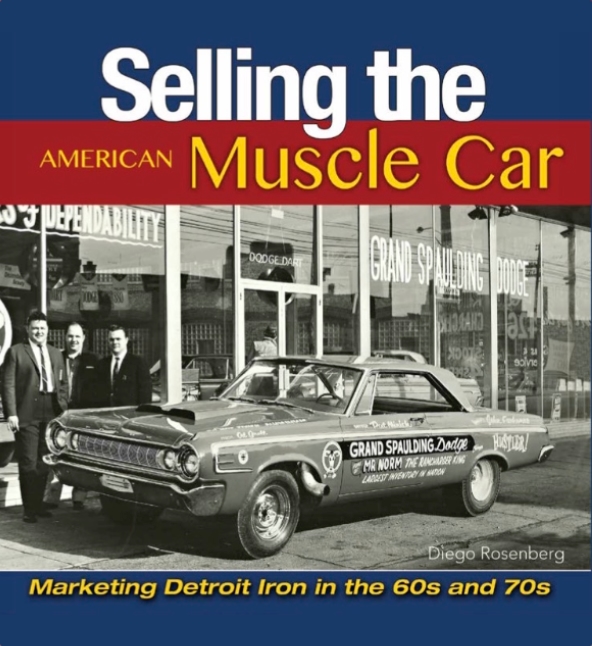 Motorheads now get an authoratative look behind the curtain, with publication of Diego Rosenberg's 'Selling the American Muscle Car'. From the author's journal:
"Traveling southwest to the Detroit Public Library, then on to the storied Benson Ford Research Center, my immersion at 'ground zero' would be completed at the GM Heritage Center. My journey had started in Rhode Island, with Bob Johnson from Scuncio Chevrolet. He graciously dove deep into our common backstory of North East American Muscle, where it all began for me.
Later, motoring northward from Chicago after the Muscle Car and Corvette Nationals, Mr. Norm of Grand Spaulding Dodge fame invited me in and informed me further. Back in California, legendary scribes like Joe Oldham of High-Performance Cars magazine shared his unique, in-depth experience.
And research was just beginning! Painstaikingly I poured through 10 years of Automotive News microfilm at the Los Angeles Public Library, to get the story from a left-coast perspective. Painstaking, hmmm... that might make me a masochist, because I truly enjoyed the time spent unearthing these buried facts and details." 
Selling the American Muscle Car: Marketing Detroit Iron in the 60s and 70s takes you back to an era when performance was plentiful and gas was cheap. Relive the neat marketing campaigns created when America was constantly evolving, and manufacturers inevitably sank billions of dollars into a war of one-upmanship.
Finally, a fresh take on muscle car books, with hundreds of pictures, documents and citations. Take a gander at some highlights:
 

AMC: Racing on a Budget

AMC's first muscle car: 1967 343 American
Promotion at the 1968 Trans-Am Race at Meadowdale Raceway
1969 "Badger" Javelin
Group 19 equipment
Redliner dealer performance report
Javelin XP
AMC's "Day at the Races" (1969)

Buick Enters the Field

The Gran Sport in three product lines
Blueprints for Buick's first air induction system, a dealer-installed option for 1968
The saga of the Stage 2
Buick's skunkworks courtesy of West Covina, CA's Reynolds Buick
The genesis of the GSX

Chevy Out in Front

How GM's edicts pushed Chevrolet into grass roots efforts
Dick Harrell and how his fingerprints showed up on everything great about the Bow Tie
Interview with Bob Johnson of Scuncio Chevrolet
Chevrolet's answer to the Plymouth Road Runner
Joel Rosen + Marty Schorr = Baldwin-Motion marketing

Dodge Charges Ahead

From D-500 to Ramcharger
How Mr. Norm showed Dodge how it should be done
1966's D-Dart
Scat Pack: From performance team and advertising campaign to something bigger
How the 1968 Charger helped Chrysler achieve parity in the market

Ford Fights Back

"Total Performance"
Ford's struggle: How racing did not equate to performance
Tasca Ford teaching Ford a thing or two about performance
The marketing triumph that was Mustang
"The Going Thing" and "Muscle Parts" integrated marketing campaigns
The untold story of the Mustang Sidewinder

 

Mercury Takes Flight

Mercury's obscure bid to educate dealers about selling to the enthusiast and youth market in 1966
The untold story of the 1968 Cyclone 500 and Cougar 500
Co-branding the "Streep Scene" with Coca-Cola
Mercury Sports Panel

Olds Joins the Fray

Michigan State University's Project W31
The Smothers Brothers Racing Team (complete with Pete Kost interview)
College-targeted Olds ads created by University of Wisconsin students
Dr. Oldsmobile's "Varooom Room"
Oldsmobile's take on the "Complete Automotive Performance Car Scene"

Plymouth Takes It to the Street

1-2-3 at Daytona!
The genius of the Road Runner
The Rapid Transit System and Caravan
Sox & Martin's (and Don Grotheer's, etc.) Supercar Clinic

Pontiac Sets the Pace

Bunkie Knudsen's legacy
The GTO pioneers a new segment
Jim Wangers' genius
Royal Pontiac and the Bobcats
Pontiac co-branding with Hurst, Thom McAnn, and others
Canadian Pontiacs: Beaumont SD, Conroy Cheetah, and Firebird Comanche

Studebaker Charges Ahead

Studebaker's top-end performance program
R-series engines (including supercharging) set to save StudebakerJet-Thrust success thanks to
Ray Tanner Motors' "The Whistler"
The Avanti's 11th-hour creation: too little, too late